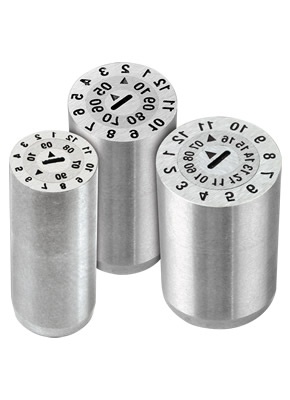 Inserts for traceability of the molded part and durability of the mold
The Cooling line is composed of several standard components that facilitate the insertion of tags for tracking plastic parts.
These are accurate products that require minimal machining for your application. They are easy to update with inserts and in some cases no possibility of movement of the component in the mold.
 Catalog Download
 Contact Polimold
More Information
{tab=Products}
| | | |
| --- | --- | --- |
| MODELO | IMAGEM | PDF |
| IR - Indicadores de reciclagem | | |
| BI - Postiço intermutável | | |
| FU - Datador unitário | | |
| FA - Datador anual | | |
| FX - Datador Duplo | | |
| FD - Datador Duplo | | |
| FT - Datador temperatura | | |
| BM - Base monobloco | | |
| CC - Contador de ciclos | | |
| IM - Postiço de marcas | | |
| IG - Postiço giratório | | |
| IA - Indicador anual | | |
| IX - Postiço extra | | |
| IT - Indicador de temperatura | | |
| PM - Postiço monobloco | | |
{tab=Budget}
{/tabs}