Protector shield for the Hot Runner.
Safe and complete, the Polimold Hot Half protects the Hot Runner System (Conventional or Valve Gate), guaranteeing the efficiency of injection.
Description
Manufacture
Application
How To Request
Budget
Description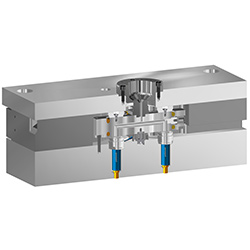 The Polimold Hot Half is made of a group of steel paltes that guarantee the integrity of the Hot Runner System and saves production time..
The manufacturing inside a temperature controlled room goes thru a strict quality control to ensure precise dimensions. It's handled by expert technicians that PERFORM all the required tests before the final assembly of the mold.
Manufacture
Application
How To Request
Budget